It's demise was a long time in coming – people even held funerals for it – but Internet Explorer is surely dead. Microsoft has launched a campaign to encourage everyone – not just governments – to upgrade to the latest version of Internet Explorer.
Just over a year ago I petitioned Gordon Brown and the government via the Number 10 website to get the UK government to encourage departments to upgrade away from IE6. Not long after the election of the coalition HMG responded saying no – it was too expensive. Read more about that here.
Now we see Microsoft themselves saying:
not often that we encourage you to stop using one of our products,
but for #IE6 we'll make an exception: http://bit.ly/g0wt4m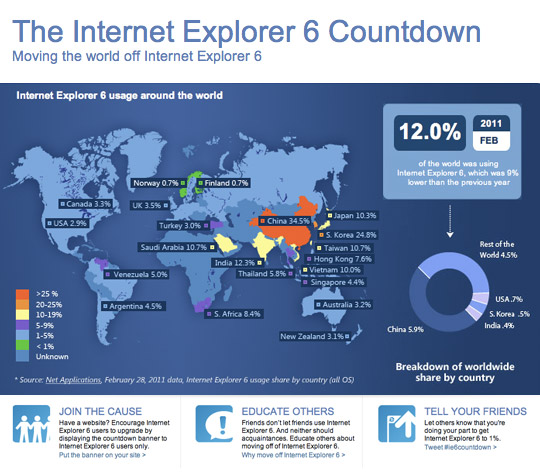 The IE6 Countdown site gives us a Join the Cause banner to put on sites to suggest:
You are using an outdated browser. For a faster, safer browsing experience, upgrade for free today.
It then gives a link to download Internet Explorer 9.
So let's get going and play nice with Microsoft. We'll be putting the banner on as many sites as we can. There's now no excuse to use IE6 with Microsoft themselves recommending the move with their own specific site.